Last Updated on March 9, 2023 by masudalam
Imagine the sheer joy that you'd feel when your plants go green and bear healthy fruits. Think about the amazing things you could do with the arrangements and placements of these plants on your patio, balcony, or your office. You could create magical sceneries in your home with these potted lovelies.
But first, we've got to create a viable environment for these plants to grow, more so in a container and this is what we'll be looking at.
It's not okay to take soil directly from your garden when starting container gardening.
So what's the best soil for container gardening? It's not so simple, but it is very doable. You need to carefully pick the best soil mix for your container gardening. There are tons of potting mixes out there, so, choosing the best one could be a daunting task, but not to worry, we'd be introducing you to a list of some very best potting mixes for your container gardening. These mixes will leave you smiling each time you check out your potted plants. So, let's get right down to business!
1. FoxFarm Ocean Forest Potting Soil
Its an organic potting soil, and when we say organic, we mean ORGANIC. This is because its content ranges from the best parts of the land like earthworm castings, forest humus and moss to the best parts of the sea like sea-going fish and crab meal. This potting mix is wonderful for outdoor gardening as it is for indoor gardening. Its include a protective material (Pearson's Protective Gloves) as part of the whole package to be delivered to you.
You can use the FoxFarm Ocean Forest potting mix as soon as it arrives and straight out of its pack. It doesn't need any more prepping, as it has gotten all of the prepping it needs from the manufacturers.
This means its intricate blend makes sure you don't need to mix in nitrogen fertilizers at first to be sure your plants develop the right growing habit to keep them healthy and strong. However, should you still want to include fertilizer in your mix, the potting soil has had its pH adjusted at 6.3 to 6.8, giving room for as much fertilizer uptake as possible.
The mix is made with the right combination of all its content, including composted forest humus, sandy loam, and sphagnum peat moss. All of this blended the right way into one pack of FoxFarm Ocean Forest potting mix leaves you with a light and arrested texture to your mix. With this kind of texture, you'll be watching your plants take on a life of their own in no time!
Pros:
Ready to use right out of the bag.
It manages to pull off thickness and lightness at the same time.
Its pH is adjusted to allow it absorb the right amount of fertilizer.
Includes a Pearson's protective gloves in the whole package.
Great for outdoor gardening.
Not a time-released mix.
Cons:
It's a bit expensive.
The mix could be too hot for some kinds of seedlings.
Sometimes it attracts bugs.
Special Features
It doesn't come with any big hassle because you don't need to mix other ingredients like perlite or even fertilizer to use it. You can simply open the bag and pour the potting mix straight into your preferred potting container.
It has light and aerated texture while maintaining thickness. It gives plants room to branch out as is necessary, but also holds on tightly to them, ensuring they are fixed strongly into place.
Directions for use
Take a bag of FoxFarm Ocean Forest FX14000, open it up and pour straight into the container, making sure the plant is positioned upright and at the correct height. Don't pack too tight, but fill the container with the potting mix till you're left with about one inch for the pot to be filled. This is enough to secure the plant. You can now water thoroughly.
● Annual Plants
● Perennial Plants
● Bedding Plants
● House Plants
● Vegetables and Herbs
● Raised Beds
2. FoxFarm FX14100 Coco Loco Potting Mix
A coconut coir mixed with other organic components. This mixture was put together by Sunlight Supply Incorporated to give gardeners one of the best potting mixes for container gardening – although it can be used for outdoor gardening as well. The dimensions of the package is 29.5 x 4.5 x 18.2 inches. Let's get right into what it's about, shall we?
It's particularly wonderful for vegetable plants, but that doesn't sideline its great effects on other plants such as marijuana or annuals in general. It strictly contains just organic products, so you can easily make it into soil blocks.
Perlite, especially, has a role in this, as it keeps the mix from degrading easily, therefore keeping the blocks in form. You can pour it straight into your pot/container (or wherever you plan to plant) without having to mix. You don't even have to flush it with water because of the coir in it. This ingredient makes it able to hold more than its weight in water without negating its ability to drain well. Coir, acting like little sponges in the mix, doesn't just hold on to water. It holds on to nutrients as well, especially the plants can get what they need a while after it has been provided.
This potting mix is also designed to have lower humidity, a feature that reduces the attraction of mold and root rot. This same feature also leaves your plant with fewer insects to worry about. When you think about it, this lower humidity is a really amazing feature for this potting mix since it holds on to water. Besides coir which pulls all this off, the other contents of FoxFarm Coco Loco potting mix are beneficial microbes, perlites, earthworm castings, mycorrhizal fungi, bat guano, oyster shell, Norwegian kelp meal, and a bunch of other stuff that all work together to make this one of the best potting mixes for your container gardening or outdoor gardening if you like.
Pros:
Just open the bag and pour even skip flush watering most times, it's really easy to use.
It's very thick, so it doesn't need to be packed too tight.
It provides the right atmosphere for undisturbed growth of your plants from warmth to lower humidity.
The sponge-like nature of coir doesn't just hold water, it holds nutrients as well.
All of its content is organic.
Cons:
A little bit pricey.
Its perlite content isn't enough.
Unavailable in a number of American states.
Special Features
You can look at FoxFarm FX14100 Coco Loco potting mix as a bit more special beyond the benefits listed above. For instance, the fact that it has low salt content is important because high salinity leads to the soil's inability to give water to the plant. Instead, the soil would hold on to the water.
Directions for use
Fill the container with soil until there's only an inch of space left below the mouth of the pot. Apply enough water and leave to drain exhaustively after planting.
FoxFarm FX14100 Coco Loco works wonders on plants like:
● Annuals
● Indoor and outdoor gardens
● Marijuana
3. FoxFarm Happy Frog Organic Potting Soil Mix
This mix is 2 cubic feet and nearly 15 pounds (14.6 pounds) of organic potting soil that comes in a package with dimensions 29.5 x 18.2 x 4.5 inches. It's manufacturers, Sunlight Supply Inc. recognised the fact that while organic matter might be important for plant growth, breaking down and feeding this organic matter to the plant roots is more important. Here's some more information.
The inclusion of content that breaks down organic matter, making it easier for plants to feed on is a very attractive feature of FoxFarm Happy Frog Organic Potting Mix. This feature alone is enough to make it one of the best potting mixes for container gardening because it's formulated to bring nutrients to potted plants that typically don't have the roots that can easily seek out nutrients in the ground.
Yet, there are more eye-catching features, most of which revolve around making it easy for your plants to get what it needs for healthy growth. For instance, the mix is pH adjusted, increasing the level of nutrient uptake.
Pros:
While it is mostly ready to use right out of the bag, it works wonders when mixed with certain fertilizers.
The mix has a light texture and allows for air.
pH is adjusted to increase the chance of nutrient uptake for plants.
The mix is purely organic.
You can expect no sludge.
Cons
Some user reviews say it burns.
There have been multiple reports of a poor state of the package on delivery.
Special Features
The beneficial microbe and fungi content has to be the most special part of the product because of how much ease it brings to the plants as regards the process of finding and feeding on nutrients.
4. Burpee Organic Premium Potting Mix
The product is formulated particularly for flowers, vegetables and herbs grown in different ways, including containers and raised beds. What is it about this product that puts it on the list of best potting mixes for container gardening? Let's see.
Burpee Organic Premium Potting Mix has been enriched with this plant food which plants can access as soon as they're planted in the potting mix. The plant food is slowly released to the plants in optimum quantity for up to 3 months. In addition to Burpee plant food, this potting mix contains coconut coir which does the job of holding water. This is yet another reason vegetable and flower gardeners choose this mix, as veggies and flowers need lots of water.
The mix is completely organic and wonderful for seeds as well as root cuttings because of its high compost content. It is so rich, in fact, that you don't need to mix it with anything else. Just pour right from the bag into your container. Its pH is a stable 6.5, making it even easier to take up the nutrients being constantly released because of the plant food. You can also use it to plant food crops since it is completely gnats free.
Pros:
The product has an OMRI label for organic use.
The mix is ready to use right out of the bag.
Its coir content helps maintain moisture till the next watering time.
Cons:
● It's quite pricey.
Special features
One of the best features to note about Burpee Organic Premium Mix is its OMRI label. OMRI stands for Organic Materials Review Institute, so any mix with this label has been reviewed and found to be completely organic. Another special feature of this mix is the Burpee plant food in it that's available to plants for up to 3 months.
Directions for use
Fill the pot till there's only about an inch of space left between the mix and the mouth of the pot. Once you've planted the seed, water enough and all around, then leave to drain exhaustively.
The Burpee Organic Premium potting mix is particularly useful for:
5. Miracle-Gro Potting Mix, 2 cu ft, pack of 2
This mix ensures plants are fed for up to 6 months, so you most likely won't need another order for the pack of 2 for a year. If you ask us, that's a great deal. You'll be saving money, time and the energy used to run to go get it if you're not ordering online. You can use the mix for both indoor and outdoor gardening, but if you really want to be wowed, use it for potted plants. Why, you ask? How about we tell you in the review?
The potting mix is the perfect blend of Canadian sphagnum peat moss, horticultural and composted bark among a bunch of other ingredients that contribute to the awesome growth of plants. It is formulated with wetting agents, therefore it maintains moisture, making it good for flowers and vegetables. By containing enough plant food to feed a plant for up to 6 months, potted plants can grow twice as big as their normal size. That's the miracle of the Miracle-Gro potting mix. This is what's very 'wowing' about using this mix for container growing instead.
Pros:
The mix comes in a great 2-in-1 package
Flowers planted with this potting mix have more colorful blooms.
The mix is useful for both indoor and outdoor gardening.
It has wetting agents that maintain moisture.
Cons:
Insects and bugs can thrive well in this mix.
It isn't organic.
Special Feature
The Miracle-Gro potting mix special feature is the fact that plants can grow twice as big as their usual size in it thanks to certain additions to the normal organic content.
Directions for use
You'll need a container or pot with a drain hole. Fill this container with Miracle-Gro potting mix up to ⅓. Loosen the root ball of the plant and put it into the container. Pour more mix into the container till there's just an inch of space left for it to be filled. Apply enough water, then leave the filled pot to be drained exhaustively.
Miracle-Gro potting mix works its wonders on plants like:
● Vegetables
● Flowers
● Annual plants
● Perennial plants
● Gardens (indoor or outdoor)
6. Coco Peat and Perlite Potting Mix, Loose Coconut Coir and Perlite.
It's a mixture of the coco peat and perlite, also further enriched with great quantities of coir. Loose Coco Peat with Perlite- Coco Coir or "Coco Peat" as it's also known, is a great potting mix for indoor growing, which makes it one of the best potting mixes for container gardening.
This product is created from an organic combo of selected coco coir and peat moss. These ingredients are amazing growth enhancers for potted plants, a lot of which is derived from processing coconuts the right way. Whether you're looking to grow fruits or vegetables, the mix has your back for all sorts of potted plants. This product is well aerated, enabling air to circulate in your soil and improves the soil's drainage.
Pros:
This potting mix is pH balanced.
The composition is 70% Coco Peat and 30% Perlite, so it's purely organic.
The package of 4 quarts is enough for planting 2-4 small plants, or 1-2 medium plants.
The coco coir content is double washed to ensure the best coco peat that's free of dust, foreign objects, or any particles that can cause sludge.
It's ideal for container planting.
Cons:
The product has high salt contents.
Special feature
The mixture of the coco coir, peat, and perlite makes this product unique because of the individual benefits of its contents.
Directions for use
Fill your garden pots with the potting mix product leaving a 2.5cm space below the mouth of the pot. Water exhaustively and allow it to drain after planting.
The product is useful for:
Perennials and annuals
Indoor and outdoor gardens
7. Bonsai Soil All-Purpose Mix
This product is a fast-draining pre-blend plant containing Pumice, Lava, Calcined Clay, and Pine Bark. This premixed Bonsai Plant Soil Mixture, manufactured by the Bonsai Supply is a 20 Quarts product weighing 21 pounds. The product dimensions are 12 x 3 x 8 inches.
Specially, this product is created to help your bonsai plants grow faster and healthier. This product is excellent for any Bonsai that is repotted every 1 to 4 years. The Bonsai all-purpose mix can also be used for herbs, orchids, and all other plants. All the ingredients used in mixing this product all play important roles in giving your Bonsai just the right soil environment for optimum growth.
Pros:
It's premixed and ready to use.
Sifted before it was bagged.
The pH is balanced.
It's an organic mix.
This mix can be used for any container-grown plant including herbs, cactus, succulents and so much more.
This mix is a number one seller for the Bonsai Supply, (the manufacturer).
Cons:
It's fairly expensive.
The product contains too many wood chips.
Special feature
What makes this product one-of-a-kind are the benefits of the individual contents. Pine bark aid in nutrient absorption and release to the tree, calcined clay is good at retaining water for your plant, pumice contains a load of nutrients and minerals and the lava aid in the aeration of the soil.
Directions for use
Empty the content of the product into your container with an allowance of an inch below the edge of the pot. Apply water thoroughly and leave it to drain after planting.
The product is useful for:
● Bonsais
● Houseplants
● Indoor gardens
8. Houseplant and Tropical Classic Potting Mix
This potting mix is made from a combination of coir, vermiculite, small amounts of Stalite, and small sponge rock (Perlites). Houseplant Blend is a high-quality, free-draining multi-purpose classic potting mix that's perfect for a wide variety of houseplants including Ivy, Jade, fig, Amaryllis, Begonias, philodendron, spider plants, etc. This mix is also ideal for tropical plants like Camelia and Zygocactus etc.
The Houseplant and tropical classic potting mix is your best bet to growing colorful and luxuriant-looking orchids. The product has an amazing smell and air-tight packaging. The contents of the product are intended to reduce the compacting of the medium and discourage fungus gnats. The product is well aerated and holds enough moisture needed by plants.
Pros:
It's rot-resistant
It provides fantastic drainage.
The mix works wonders with MSU formula fertilizer.
Perfect packaging size..
Cons
The product is quite pricey for its size.
Special feature
It's free draining and has a variety of use especially for houseplants and tropical plants too.
Directions for use
Fill your container with the potting soil. Apply enough water and leave to drain exhaustively after planting.
The product is useful for:
● Houseplants and tropical plants
● Indoor and outdoor gardens.
9. Organic Potting Mix by Perfect Plants for All Plant Types
Perfect Plants Organic potting mix is of the highest-quality mix, an all-natural blend of nutrient-boosting ingredients that help enhance soil conditions for plants that are grown in containers. It's an astonishing 8 quarts for indoor and outdoor use, especially great for Veggies, herbs, and cannabis plants. The product comes in a package with dimensions of 15.8 x 12.3 x 4.5 inches, and it weighs 8.63 pounds. The product is manufactured by the Perfect Plants Company.
This product is magical in its work. It's created from the best combination of organic materials that supply the needed nutrients to your potted plants. This potting mix is gnats and bug-free, and it comes in a resealable pack with a soil pH of about 6.5.
Pros:
Suitable for indoor and outdoor use.
It manages moisture.
Main soil components are Perfect Plants Perlite, Coconut Coir, and Peat Moss which enriches the soil conditions of containerized plants.
The three main soil components also protect the roots, and enhance plant growth.
The pH is balanced.
Cons:
Special feature
The breakdown of the nutrient-boosting ingredients includes Mycorrhizae, Worm Castings, and Composted Pine Bark with added Lime for the perfect pH balance.
Directions for use
Fill your container with soil leaving an inch of space below the mouth of the pot. Apply enough water and leave to drain exhaustively after planting.
The product is useful for:
● Potted fruits and vegetable plants
● Annuals
● Indoor and outdoor gardens.
10. Premium All-Purpose Potting Soil
Proven Winners premium all-purpose potting soil is the perfect blend for all your gardening needs. This product is made from a fine blend of composted bark, quality Canadian sphagnum peat moss, and high-grade perlite. The product comes in two distinctive sizes, the 1.5 cu. ft bag and the 16 qt. bag. The former is good for outdoor uses while the latter is just excellent for all indoor uses.
This product is designed to improve the plant's performance and it's suitable for a wide range of plants and potting arrangements. It produces more beautiful, vibrant flowers and stronger growth for more color in your garden. The unique medium-weight mix has excellent air porosity and drainage for healthy roots. The product is easy to use from the bag and converts into approximately 11 gallons of soil.
Pros:
It promotes strong growth of potted plants.
It's ready to use right from the bag, with no need to add or subtract from the mix.
It has excellent air porosity and drainage for healthy roots.
The product is fairly affordable.
The product provides continuous feeding for the plants.
Cons:
The product is dry.
It's not organic.
Special feature
It's a great blend of 50-60% Canadian sphagnum, peat Moss, processed softwood bark, perlite, dolomite lime, a controlled-release fertilizer, and a wetting agent.
Directions for use
Pour product content into your container leaving an inch of space below the top of the pot. Water thoroughly and allow the water to drain off after planting.
The product is useful for:
● Annuals
● Indoor and outdoor gardens.
● Seedbeds
There you have it! A list of some of the very best potting mix products for your container gardening. Now we do understand that to trust these products to the core, a little information on the ingredients from which they're formulated wouldn't be a bad idea. So, we would like to explain these components, what they are, why they are being used, and what they add to the whole mix that makes your potted plants grow the way they should.
In no order of relevance, we have the Peat moss, Coco Coir, Perlite, Compost, and Soil.
PEAT MOSS
Remember that concept in Biology, where dead organisms (Plants and animals) break apart and become an entirely different thing? Yes? If you can't remember, it's called decomposition. If you did remember, well, good for you! You see, decomposition is how the peat moss is formed.
The peat moss was first introduced into gardening around the middle of the 1900s, and since then, this material has been a core application in gardening and has helped a lot of gardeners to be able to cultivate their potted plants. The peat moss is a dead fiber-form material which is the residual deposits when mosses and other living materials decompose in peat bogs.
It's formed in the absence of oxygen and so it takes a lot of millenniums for peat moss to be produced. This means once it's used up or harvested from a particular peat bog, it doesn't just renew the next year or even in the next couple of decades. Most of the Peat Moss used by manufacturers of potting mix soils are gotten from bogs around Canada.
Uses of Peat Moss
Peat Moss has a considerably great application in gardening. Primarily, they are used as an ingredient in potting soil and nursery mediums because of their ability to retain nutrients.
The peat moss also has an acidic pH, and so it's suitable for acid-loving plants such as Camellias.
It doesn't break loose easily, so a single application can last your potted plants for a lot of years. The peat moss is sometimes called the Sphagnum peat moss because of the sphagnum moss from which it is formed.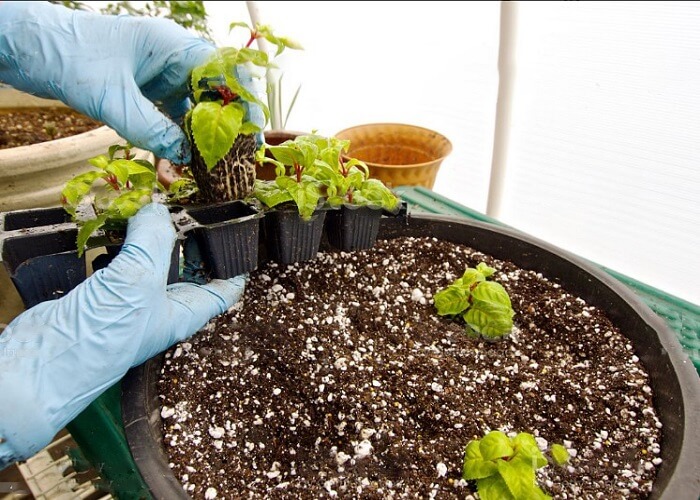 COCO COIR
Some ten, twenty years ago, who would've thought there'll be any use for the husk of coconut in gardening?
They're literally a waste piling up in some country in the tropics. Well, no more of that! The Coco coir is made from the husk of a coconut, in fact, everything between the hard outer shell and the coconut fruit inside is considered the Coco coir. The coir is of two types. There's the brown coir and the white one.
The brown coir is from matured and ripe coconuts, while the white coir is from? You guessed it! The unripe coconuts. Here is how the whole coco coir is processed to have what is being used as an ingredient in potting soil mix these days. First, the coir is removed from the coconuts.
This is mostly done by immersing the husks in water bodies for extensive days. Then, they are removed and dried for over a year. After the protracted drying, the coir is arranged into bales. These bales are in turn further processed into different products, one of which is the ground coconut coir.
Benefits of Coco coir in container gardening
The Coco coir can be used as a perfect alternative to soil. These two mediums are so similar. Once you can keep up watering the medium with nutrient water, then you're good to go.
The coco coir also has a great moisture retention capacity. The coco coir can hold in water up to ten times its actual weight.
Bio-safety: Unlike the agitation over the continual use of peat moss by some concerned world citizens, the coco coir doesn't have all of those complexities. It is totally safe to be used again and again, more so, it takes the dirt off our street. As long as coco coir retains its usefulness in the potting soil mix, general container gardening, and its other applications, the coconut husks will never again litter the dumpsites.
PERLITE
Now to the whitish salt balls look-alike that you see in the potting soil mix products. Those little guys are called perlites. Perlites are minerals that are found as volcanic glass. They have an outlook of a grey or black shapeless thing. They're dense and very weighty in their natural form.
A typical perlite ball contains these ingredients –
Up to 75% silicon dioxide, Aluminum Oxide, Potassium oxide, iron oxide, calcium oxide, magnesium oxide, sodium oxide, and 5% water. Perlites aren't renewable minerals and they are found in volcanic hotbeds where they are also mined and processed in the US, Turkey, and Japan.
Benefits of using perlite in potting soil
It is used as an ingredient in potting soil mix because it improves aeration, that is, air spaces in the soil. It also helps the soil structure, keeping it loose and not compacted.
Perlite also supports plants that are cultivated through their root cuttings.
It also helps in retaining water in the soil mix while also assisting in draining excess water in the soil.
Perlite has a neutral pH which makes it ideal to correct the pH of the soil in use.
COMPOST
This particular ingredient of the potting mix is so dear to every gardener. Composts are natural fertilizers that help supply nutrients to the soil. It is also fairly cheap to make. Technically, all you need are waste products.
Composting is the process of gathering leftover wastes from your kitchen (food remains), then leaving them together for them to decompose and form a rich nutrient-filled organic matter. The process of decomposition is totally natural.
Benefits of composting to gardening
It supplies major macro-elements to your soil. Compost essentially contains Nitrogen, Phosphorus, and Potassium which are needed by plants for healthy growth.
Compost helps to retain water in the soil.
Compost improves healthy root formation in plants.
Compost helps to balance the soil's pH.
Lastly, let's talk about the single most indispensable ingredient in a potting soil mix. Do you want to guess what it is? Yeah, you guessed right! The soil!
SOIL
The soil is a mix of different things like mineral particles, organic matter, water, air, and a host of living organisms. The soil is the medium where plants grow. So, unless you are practicing hydroponics, you'll need the soil. Here are the different classes of soil you will find in almost every garden so you'll know what is the best soil for container gardening.
First is the loam. The loam is a combination of the sand, silt, and clay soil. The loam can retain moisture and nutrients, so it is more useful than the other types of soil.
The sandy soil is a lightweight and dry soil. Sand has poor water retention capacity, so water drains easily from it. This poor water retention capacity is because it is very loose. Furthermore, it is low in nutrients. It also warms up easily on exposure to heat or the sun. The sandy soil doesn't support good root systems in plants.
Clay soil is a heavy type of soil that holds water very well and has fairly low temperatures. During summer, they tend to dry out completely and become congealed. The clay soil doesn't allow room for air because the particles are dense and tightly packed together.
The silt soil is also a light soil with great moisture retaining capacity. They have fairly medium-sized particles and they also drain well. The soil is used to improve the soil's fertility.
Having learnt all these ingredients, let's go on to knowing what exactly to look out for when buying the best potting mix for your container gardening.
---
THINGS TO CONSIDER WHEN BUYING A POTTING MIX FOR CONTAINER GARDENING
Getting the right potting mix might be quite tricky. You need to watch out for the following when doing your purchase;
Optimum Weight
The weight of each potting mix product is always labeled on the pack. What determines the weight are the contents. Like it's shown in the products we introduced you in the pages above, you need to buy a potting mix whose contents will suffice the intended potted plant you want to cultivate. A potting soil mix should be lightweight and not dense or compacted.
Smell & Odor
Whilst you should expect a 'fresh', earth-kind-of smell when you open your potting mix, sometimes you don't get what you expect. A good potting mix, fresh from the store shouldn't have any offensive or foul smell/odour. However, when these products have taken more time in storage than normal, the ingredients inside them begin to react.
The compost, chemicals, and other things containing some amount of organic matter and organisms begin to thrive in that airtight bag, which is the perfect environment for them. This smell, however, doesn't affect the efficacy of the potting mix, except for the bad air they can introduce to your home. Once you open the bag, the smell dissipates and in no time, it vanishes.
Well-drained
For any potting mix product that you purchase, ensure it drains well. One of the important jobs of a potting soil mix is to allow the roots of your plants to have access to a good supply of air and moisture. The roots don't have the luxury of tapping downward in search of these things; this is the reason why the potting soil mix must be able to make room for these necessities.
When you water your potted plants, water tends to gather at the bottom, a well-draining potting mix will allow water to go off the bottom, it's bad for this water to become logged at the bottom. They make the soil compact and block air spaces.
Healthy Nutrients
Nutrients are the biological support systems of the plants. They play an important role in determining their healthy growth and optimum development. These nutrients are most times contained in the compost ingredient of the potting mix. So you have to look out for the kind of compost that was used in preparing the potting mix product you are about to buy.
The major nutrients that must be present in your potting mix are the NPK (Nitrogen, Phosphorus, and Potassium).
They all have different contributions to your growing plants. Nitrogen is a key element in the formation of chlorophyll without which your plants can feed on the sun, and your plants wouldn't be lush green, but yellow (A sign of ill-health). Phosphorus on the other side helps out in building strong root systems for your plants and in seeding. Potassium helps in developing strong stems and stalks.
pH
The right soil pH determines the health of the plants. A high pH increases the toxicity of the soil and inhibits its absorption of nutrients. The pH of a soil is the degree of acid or alkaline (Base) present in that soil. It ranges from 0 through to 14 with 7 being the midway show neutrality. Different plants have different soil pH demands for adequate growth.
This means some plants do well in acidic potting soil mix while others prefer the alkaline based medium. So, depending on your intentions for the potting mix, pick the ones with the soil pH that will suit your plants, however, most potting mixes have a pH level that's a bit acidic, say within the range of 5.3 – 6.8.
Buffering Capacity
The buffering capacity of the soil is a test of its ability to resist a rise or change in pH levels. So after you must have bought your potting mix and in the course of tending your garden, you erroneously added a little bit of too much acidic or basic nutrient. How will your potting soil mix react?
This is the test of its buffering capacity.
Will your mistake make the soil's acidity or alkalinity skyrocket or will it maintain its cool?
This is the reason why you have to purchase a product with a strong buffering capacity. Gardening is an awesome hobby whether it's container gardening or you do have a small space in your backyard to cultivate. It's helpful in a lot of ways. You get to produce your own vegetables, fruits sometimes, and that's cool. This simply means you just cut away those expenses you make on buying groceries every now and then. You get to invest the money in something else or better still in reinforcing your garden.
If gardening is your occupation, you are among the few pro-earth individuals adding beauty to Mother Nature and fighting climate change in your own little way. You rock! More so, you get to sell your fresh produce and keep hunger away.